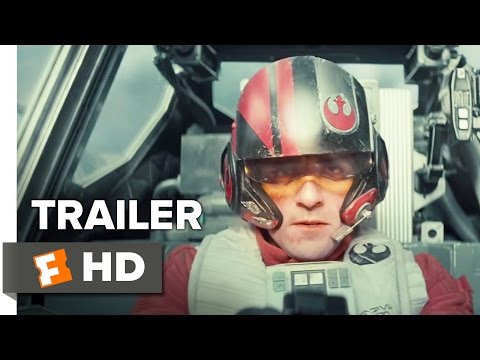 The official trailer of JJ Abrams's highly anticipated Star Wars instalment, The Force Awakens, has been unleashed and opens with a masked figure seen scaling the gigantic interior of blackened ruins. A voiceover poses the compelling question: "Who are you?"
Without ever completely answering that question, the trailer, which premiered on the sports cable network ESPN during halftime of the Monday night NFL game, appears to establish who the film's three lead characters are.
First cab off the ranks in the trailer – which comes after two shorter teasers – is scavenger Rey from the desert world of Jakku, played by Daisy Ridley. A tracking shot of a faceless army of stormtroopers leads us to Finn (John Boyega). He is shown taking off his stormtrooper mask with the words: "I was raised to do one thing, but I've got nothing to fight for."
Completing the trio of key protagonists is Adam Driver's villainous Kylo Ren, the supposed primary evildoer of The Force Awakens. "Nothing will stand in our way. I will finish what you started," says Ren to a disfigured mask, presumably belonging to the original Star Wars baddie Darth Vader.
At two minutes and 23 seconds long, this latest trailer is the longest preview yet of the film. The seventh episode in the series picks up three decades after the events of Return of the Jedi (1983) and, as the trailer shows, features many of the characters from the original trilogy.
Fans of the film gathered on Monday night on a Reddit thread dedicated to Star Wars – ostensibly not football lovers, as they impatiently cursed the game (and the network) while waiting for the trailer to be aired.
Director Abrams sent a message to fans via Bad Robot: "We cannot wait to share the trailer with ya tonight. I don't care if you're black, white, brown, Jawa, Wookiee, Jedi or Sith. I just hope you like it! Best, JJ."