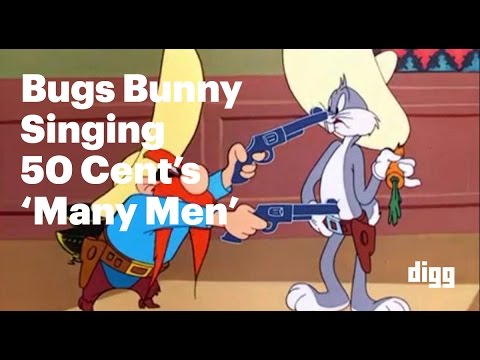 Looking back on it, the vast majority of Bugs's life is simply not being murdered.
Edited by the incomparable Adam Schleichkorn (Mylo the Cat)
See the world's most famous rabbit get right in the face of his enemies.
"Many Men" have wished death upon Bugs Bunny, or at least, a few men and plenty of nonhuman characters.
In this new mashup video, watch as the Looney Tunes legend struts his stuff and gets right in the face of his many nemeses -- including Elmer Fudd, Yosemite Sam, Daffy Duck, Marvin the Martian and Gossamer -- as he appears to sing 50 Cent's "Many Men."
The clip was put together for Digg by Adam Schleichkorn, a.k.a. Mylo the Cat, the mashup master who gave us Muppets doing "So What'cha Want," "Humpty Dance" and "Just A Friend" as well as the viral video, "I'm Just a Cat and I'm Doing Cat Stuff."